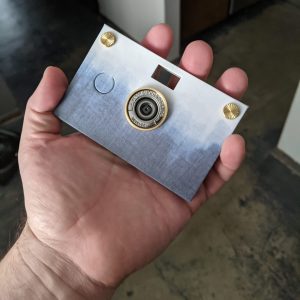 The Gallery shown in the sidebar of these pages is a series of 'Digital Instant' photography. Every image is the result of a Boop! in which I reach out with an innate sense of composition to capture a photo. These are truly instant and shot from the hip pictures, but it is the limitations of the process that are a literal joy!
Due to the intentional design of the camera system (a papershoot), I can neither studiously compose a shot nor review it immediately afterward. The philosophy behind the device is to bring back the mystery of shooting instant film in a digital format. The limitations of the Digital Instant force a letting go of the control of the work and frees the artist to fire and forget.
This is as close to the Moment as I have ever been in my photography life. I do not shoot with my eye to the camera. Instead, I have a notion of the final image in my head from the way I hold it – typically at arms length. I know what I am Trying to achieve with each click, but the camera is the final judge. To be able to pull good images from this process feels at once like a shock and an achievement.
Coming home after anytime out with the camera is a Christmas morning, the SD card a mystery box of what came out well on the day. My process is to review these images, and orient them properly, but to do Very Little Else to them. Besides the occasional begrudging crop, these images are presented in their original 4×3 and represent a veracity of photography that I can't get with all of my editing software and interchangeable lenses. Further, they exist on a device convenient enough to take anywhere and digital enough, that I'm not waiting weeks for film development.
These images also serve as a tease as they and their like will be the backbone of an upcoming generative art project, that I'll write more on after I've studied, ummm.. a Lot.